Spirit Pride 2017 Annual Conference
Spirit Pride 2017 Annual Conference
July 27 - 30, 2017

Important: This event has already occurred.

Vancouver, BC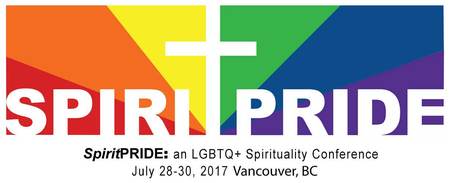 Just three weeks away! There's a week left to register online at the early bird rate at www.spiritpride.org (last minute registrations will be accepted, as well as at the door).
The mission of SpiritPride is to provide a safe, positive, LGBTQ+ affirming space for members of the LGBTQ+ community to explore issues of faith, spirituality, gender identities, and sexualities. Our theme will be Hope Rising: Celebrating our Spirituality.
Spirit Pride precedes and is one expression of Vancouver Pride, which takes place over the August long weekend.
Program updates: Along with our Keynote Speakers Kathy Baldock and Brandan Robertson, this year's conference will also include an Interfaith Panel Dialogue on the theme of 'Religion, Faith & Inclusiveness: Reasons for Hope'. Our special guest panelists include: – Rabbi Dr. Laura Duhan Kaplan, Director of Inter-religious Studies at the Vancouver School of Theology, Rabbi Emerita of Or Shalom Synagogue – Imam El-Farouk Khaki, Co-founder and Coordinating Imam of el-Tawhid Juma Circle, Masjid el-Tawhid, Toronto Unity Mosque – Dean Peter Elliot, Rector of Christ Church Cathedral and Dean of the Diocese of New Westminster in the Anglican Church of Canada The facilitator for the panel discussion will be Rev. Gary Paterson, Lead Minister, St. Andrew's-Wesley United Church, and former Moderator of the United Church of Canada (he was the first openly gay leader of a Christian denomination). The panel event is sure to provide some amazing insights and opportunities for dialogue, as will the wide variety of scheduled workshop sessions!
Visit the event website to find out more about the conference schedule, speakers, and registration. If finances are an issue just email us and let us know you need support. We have both discount codes and bursary funding available, to ensure everyone can attend.
Affirm United works for the full inclusion of people of all sexual orientations and gender identities within church/ministry communities.
Return to Events
---