This event has already occurred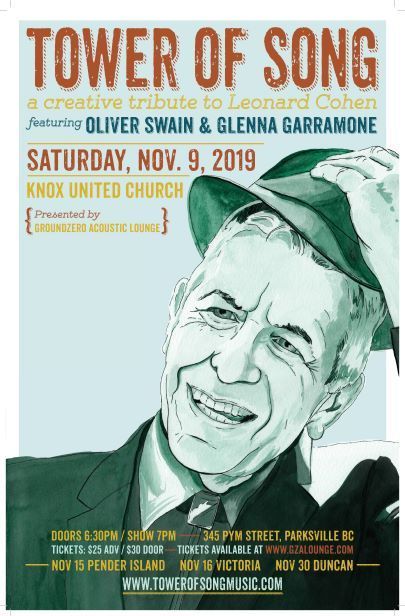 Save to your Calendar
"Tower of Song"... a creative tribute to Leonard Cohen, featuring Oliver Swain and Glenna Garramone.
When Leonard Cohen sang these words, the Tower of Song was a metaphor for the inspiration that flows between songwriters, each toiling away on their own, but connected by their shared craft. Moved by this concept, celebrated BC singer-songwriters Oliver Swain and Glenna Garramone collaborated to produce a project that is a dialogue through song and a tribute to the legendary songwriter. Re-imagining both rare and classic works of Cohen, the duo have crafted a sound that resonates with both longtime Cohen fans and a younger audience.
Saturday, Nov 9th doors open at 6:30 p.m and show starts at 7:00 p.m.
Tickets: $25 in advance at Ground Zero Lounge #8-464 Island Highway East or gzalounge.com or click the link below:
https://www.eventbrite.ca/e/tower-of-song-a-creative-tribute-to-leonard-cohen-tickets-77892792439