This event has already occurred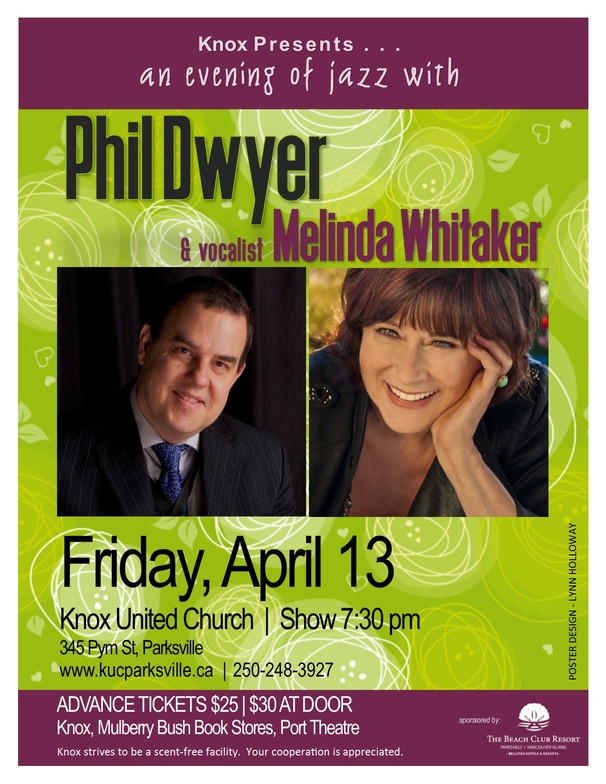 Save to your Calendar
Doors open: 7 p.m. Concert: 7:30 - 9:30 pm
(Note: Building access is 5:30 - 10:00 p.m.)
KNOX PRESENTS... CANADIAN JAZZ MUSICIANS, PHIL DWYER & MELINDA WHITAKER
Back by popular demand, Canada's own Jazz Pianist/Saxophonist Phil Dwyer and Great Lady of Jazz, vocalist Melinda Whitaker are coming to Knox United Church (345 Pym St., Parksville) on April 13 at 7:30 pm, as part of the 2018 Knox Presents... Concert Series. Phil, Oceanside's favourite jazz son, is pleased to be introducing Melinda to the music enthusiasts of the mid-island community and throughout the evening, they will feature selections from Melinda's recording, "Lucky So and So".
Although 'Luck" will be the main theme of the show, Phil is the first to claim that he likes to have the freedom to be spontaneous in his choice of numbers during a concert. This means we may be treated to everything from jazz standards by Duke Ellington to new interpretations of Stevie Wonder classics. Their vast repertoire also allows the possibility that they will perform music from the movies, including pieces from Days of Wine and Roses, The Sandpiper, Charade, and many others.
The tickets for this concert are $25 in advance or $30 at the door. They will be available at Knox United Church, the Parksville and Qualicum Beach Mulberry Bush Bookstores, and the Port Theatre Box Office & website www.porttheatre.com/events.
The last time Phil Dwyer was at Knox, he performed to a sell-out crowd. So get your tickets soon so you don't miss out.
This performance is a co-production/revenue-sharing arrangement between Knox and Phil Dwyer.. The funds raised help Knox respond to the needs of our local and global community. The performers' accommodations are generously provided by the Beach Club Resort of Parksville, courtesy of General Manager, Arthur Wong.
To learn more about the musicians, see the following, additional information.
PHIL DWYER
Phil Dwyer has been a fixture on the Canadian, and international, music scenes since he was a teenager. On Dec. 30, 2013 he was appointed as a Member of the Order Of Canada. He was cited for "his contributions to jazz as a performer, composer and producer, and for increasing access to music education in his community."
In January 2015 he was recognized by the Royal Conservatory of Music as an Honourary Fellow. These distinctions arise from an illustrious thirty year career collaborating with a storied roster of great musical artists, crossing stylistic and geographic borders. Phil has appeared on ten Juno Award-winning recordings, and over thirty nominated recordings. He is also a recipient of the prestigious K.M. Hunter Prize, for excellence in the arts.
Phil is a recent graduate of the University of New Brunswick Faculty of Law. He spent his summers between school years living in Toronto, maintaining a busy music schedule and, among other things, participating in a pilot project with social services agency Sound Times and Legal Aid Ontario and assisting noted activist lawyer Peter Rosenthal. He is now an articled student on Vancouver Island and is engaged with a number of community organizations in the areas of refugee resettlement and community health. He remains active as a performer, teacher, recording artist, curates "Phil Dwyer's Jazz Canada" for CBC Radio Music, and is a partner in SeaWind Musical Instruments. For more information about Phil, visit: www.phildwyer.com
MELINDA WHITAKER
Melinda is a Canadian jazz vocalist and recording artist, known for delivering soulful jazz performances on-stage and on record which define the jazz vocal tradition. She embodies the art form... "I sing because I breathe," Melinda laughs, and critics and fans like Dr. Peter Gouzouasis, Professor of Music and former Music Director at Philadelphia's WRTI/JAZZ90, agree. "Melinda Whitaker is a delight for anyone who likes vocal jazz. Her song is her life, and Melinda sings life like no other. Anyone who has heard Melinda's voice knows its smoky brilliance, the seductive, electrical charge that this wonderful performer can bring to a song."
Whitaker's life in jazz began in Edmonton, singing original compositions and on CBC Television with Tommy Banks. Returning home to Vancouver, she became a fixture on the city's vibrant jazz scene while making a second home in the equally active local studios singing on commercials for television, radio and film. Whitaker is a singular talent with an exquisite sense of time and tone and a deep knowledge of the jazz tradition. Her music swings transcendentally, creating art from life's magnificent struggle.
Melinda makes her home on Vancouver Island where she has performed with the Victoria Symphony Orchestra and at the Victoria JazzFest. She is a member of the Great Ladies of Jazz. As a solo entertainer she performs an extensive du jour jazz repertoire and favourite classics from The Great American Songbook. For more information about Melinda visit: www.melindawhitaker.com