This event has already occurred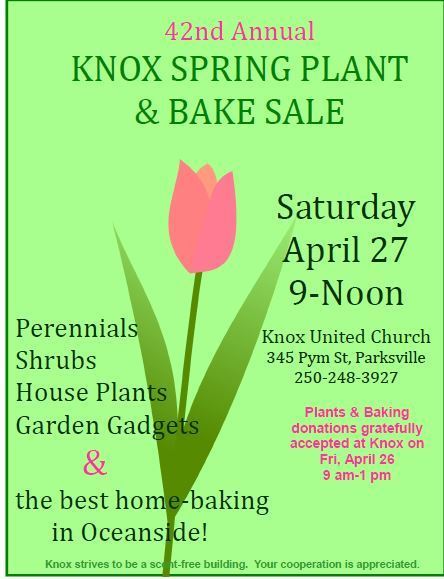 Save to your Calendar
KNOX UNITED CHURCH 42nd ANNUAL SPRING PLANT and BAKE SALE
Knox United Church 42nd Annual Spring Plant & Bake Sale
345 Pym St., Parksville
Saturday, April 27th
9:00 am - 12:00 noon.
This very popular, annual, spring sale offers a great variety of: Indoor & Outdoor Plants – Seedlings – Divided Perennials – Shrubs - Garden Gadgets – Tools – Ornaments - Gardening Books.and the Best Home-Baking in Oceanside! yummm... Cookies...Pies...Muffins...Loaves!
Free Admission – Lots of Parking.
We are well known for our large assortment of plants and super, delicious home-baking and people come from many parts of the Island to enjoy this event.
Everyone welcome!
No dogs please (Guide dogs welcome)
The funds raised at this event help Knox respond to the needs of the local and global community.
Knox strives to be a scent-free facility. Your cooperation is appreciated. For more information, please call the church at 250-248-3927 or visit: kucparksville.ca.
Don't miss it!